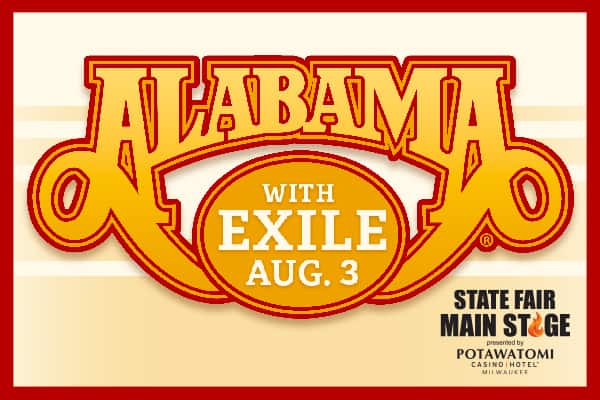 ALABAMA
Thursday, August 3, 2023 @ 7:30 pm
Legendary country band ALABAMA is bringing their revolutionary songs to the State Fair Main Stage on the opening night of the State Fair, Thursday, August 3!
Award-winning band ALABAMA changed the sound of country music forever. With a plethora of No. 1 hit songs like "Tennessee River," "Love in the First Degree," and "Dixieland Delight," fans of all ages will be singing along to these timeless songs.
American rock-turned-country band Exile will open the 7:30pm show. With singles including "Kiss You All Over," "I Don't Want To Be A Memory," and "Give Me One More Chance," you'll hear these chart-topping songs as they tour with their latest album.
All seating for this show is reserved, and tickets are $65, $70, and $75. Each concert ticket includes admission to the Wisconsin State Fair for the day of the show when purchased before entering the Fair. Venue opens at 6:30pm for show seating.