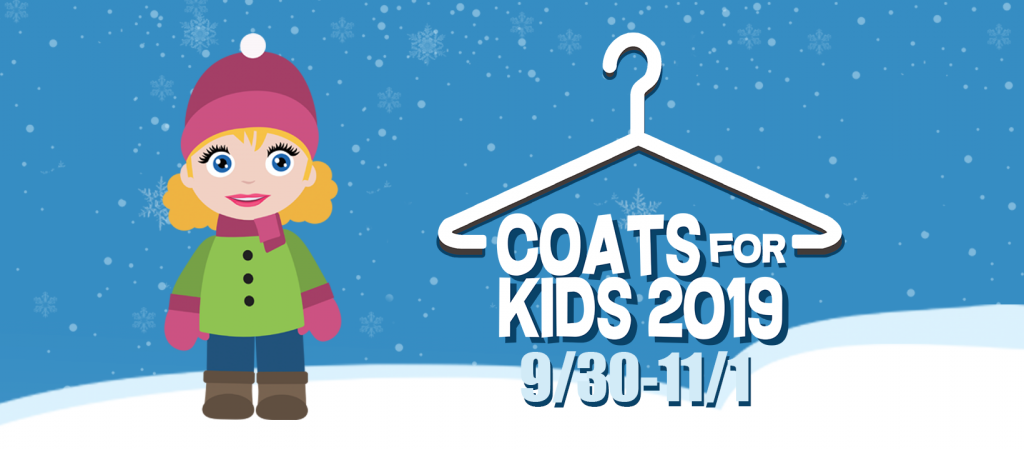 COATS FOR KIDS COLLECTION DATES: SEPTEMBER 30, 2019 THROUGH NOVEMBER 1, 2019
Below you will find all of our upcoming events dates, times, and locations for dropping off coats and cash donations.
We want to thank everyone who participates in this great campaign year in and year out.  The need continues to be there year after year and we will continue to fill that need with coats.  But we can't do it alone!  Your help is paramount in the success of our yearly campaign and our end goal of making sure every child in Northeast WI stays warm during our frigid winters!
Events:
October 5 – Neenah YouthGo Haunted House – 12:00pm – 4:00pm
October 12 – Oshkosh Farmers Market, 8:00am – 12:30pm
October 19 – Fox River Mall, 10:00am – 4:00pm
October 23 – Dough Raising Night at Papa Murhy's
(20% of all sales that day will be donated to Coats for Kids. Papa Murphy's has 17 local locations.)
October 26 – The Outlet Shoppes at Oshkosh, 10:00am – 4:00pm
October 26 – Neenah YouthGo Haunted House – 12:00pm – 4:00pm

---
Oshkosh Drop-Off Locations
| | |
| --- | --- |
| Fox Communities Credit Union | 1275 S Drive, Oshkosh (follow signs to Winnebago Mental Health Institute Grounds) |
| Papa Murphys Pizza | 2314 Westown Ave, Oshkosh |
| Human Services | |
| Dr. Tim Ryan's Office | 2200 Omro Rd |
| Aurora | 855 N. Westhaven Dr |
| Festival Food | Westhaven Dr |
| YMCA/Washington Ave | 324 Washington |
| YMCA/20th Ave | 3303 W. 20th Dr |
| Foc Valley Savings Bank | |
| US Banks | 1620 W. 20th Ave |
| Bethany UCC | 145 W. 24th Ave |
| Calvary Luthern Church | 2580 W. 9th St |
| First English Lutheran Church | 1013 Minnesota |
| BP/Old 21 | Old Omro Rd |
| 4Imprint/Commerce Ave | 101 Commerce St |
| 4Imprint/Atlas Ave | Atlas Ave |
| Fox Valley Plastic Surgery | 2400 Witzel Ave |
| Security Finance | 376 S. Koeller St |
| Burger King | |
| Advocap | 2929 Harrison St |
| Affinity Family Medical Care | Koeller St |
| St. Jude | |
| WG&R | 1599 S Koeller |
---
Fox Cities Drop-Off Locations
| | |
| --- | --- |
| Essity | 1451 McMahon, Neenah |
| Fox Communities Credit Union | 3401 E Calumet, Appleton |
| Fox Communities Credit Union | 528 S Washington, Kimberly |
| Fox Communities Credit Union | 1724 S Lawe, Appleton |
| Fox Communities Credit Union | 610 E Wisconsin Ave, Appleton |
| Fox Communities Credit Union | 2531 Highway Dr, Appleton |
| Fox Communities Credit Union | 1151 Westowne Dr, Neenah |
| Papa Murphys Pizza | 808 Winneconne Ave, Neenah |
| Papa Murphys Pizza | 851 N Casaloma Dr, Appleton |
| Papa Murphys Pizza | 2700 E Calumet St, Appleton |
| Papa Murphys Pizza | 2731 N. Meade St, Appleton |
| Papa Murphys Pizza | 223 E Ann St, Kaukauna |
| Gunderson Cleaners | 118 E Bell, Neenah |
| Gunderson Cleaners | 1055 W Winneconne Ave, Neenah |
| Gunderson Cleaners | 1440 Oneida St, Appleton |
| Gunderson Cleaners | W6318 Wisconsin Ave, Greenville |
| Gunderson Cleaners | 200 W. Wisconsin Ave, Appleton |
| Gunderson Cleaners | N162 Eisenhower Dr, Kimberly |
| Gunderson Cleaners | 2828 N. Richmond, Appleton |
| Fox River Periodontics | 2557 E Calumet |
| Evergreen Credit Union | 1500 W American Driver (past CB)     Neenah |
| Elite Smiles | 315 W Wisconsin Appleton |
| Elite Smiles | 2315 W Main, Little Chute |
| WG&R | 2700 W College |
| Boots Chiropractic & Wellness Cte | 1020 Truman St Suite B   Kimberly |
---
Fond du Lac Drop-Off Locations
Papa Murphys Pizza
725 W. Johnson St, Fond du Lac
WG&R
50 N Main
Georgetown Cleaners
441 W Johnson St

399 S Main St

Model Cleaners
66 S Macy St, Fond du Lac, WI 54935
---
Additional Drop-Off Locations
| | |
| --- | --- |
| Fox Communities Credit Union | 3 N Main, Clintonville |
| Fox Communities Credit Union | 1302 N Shawano, New London |
| Fox Communities Credit Union | 502 S. Main St, Black Creek |
| | |
| Papa Murphys | 1009 Egg Harbor Rd, Sturgeon Bay |
| Papa Murphys | 1063 East Green Bay, Shawano |
| Don's Quality Market | 147 W Wisconsin, Seymour |
| Seymour Public Library | 436 N Main, Seymour |
| | |
| | |
Globe Cleaners – 1301 Washington St, Manitowoc, WI 54220